'Liquid gold': students make world's first brick out of human urine.
The bio-brick created by students in Cape Town mixes urine with sand and bacteria, which they say is a world first. Article from The Guardian newspaper.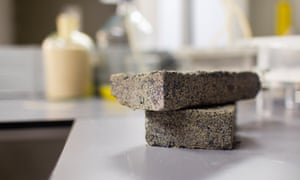 Creating a truly sustainable construction material is now a possibility
"Students in South Africa have created the world's first brick made from human urine.
The bio-brick was produced by students from Cape Town, who collected urine from specially designed male urinals at the university's engineering building and mixed it with sand and bacteria."
More from the article … "Bio-bricks are created through a natural process called microbial carbonate precipitation, said Randall, similar to the way seashells are formed. Loose sand, which has been colonised with bacteria that produces urease, is mixed with the urine. Urease breaks down the urea in the urine, producing calcium carbonate, which cements the sand into shape.
While regular bricks are kiln-fired at temperatures of 1,400C and produce large amounts of carbon dioxide, the bio-bricks do not require heat."
Original article: https://www.theguardian.com/global-development